Hi.
Please can anyone help me? I am trying to scan a negative on the Canon 8800F using Silverfast but am having a few problems.
The Canon software is no good so I have been trying Silverfast.
I think previously I had the wrong setting and was trying to use 48 bit. I believe you need to buy different software to use that setting?
Anyway, I have a lot of trouble with Silverfast often crashing but I did manage to get one of the negatives scanned. I think it was at 1200dpi. When I try higher than this it freezes my system and stops scanning. I probably don't have enough memory to scan greater than this.
Unfortunately the result I get is not too great as you can see. I am not expecting miracles trying to scan negatives using a flatbed scanner but was hoping I can try and improve a bit the result I have gotten.
The hardware dust and scratch removal doesn't seem to work much? You can see in my clip the little scratches here and there that shouldn't be there. Unfortunately when I go into the menu and try and change the detection levels and size of defect etc it messes up the whole scan. If I circle just one defect to fix it turns it red when I move the sliders and doesn't seem to get rid.
What am I doing wrong and can you offer any tips or advice to try and improve the result?
Can you also tell me if I have the latest version it is 6.5.5r2. This is what I got with my scanner is the SE version. I am trying to use this for now and if I like I will stick with it. Are there any updates I can download for this to fix any issues or is this the latest? Can this version I have do multi batch and auto detection/auto rotate or would I have to upgrade to premium product for that?
I mainly buy the Canon 8800F for scanning prints not negatives and because it is one of the faster scanners. I know some Epson models have slightly better image quality especially non led models but I needed speed first so went with this. I would like to try and test the negative scanning ability and see if I can get better than what I have gotten so far just so I know the limits.
These are the scans I got with silverfast:
Negative---------------------Positive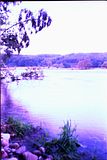 Thanks for your help,
John